Is your business VoIP Ready?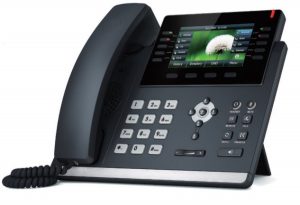 VoIP is the all the rage, and it doesn't mean you need to compromise on poor call quality and awkward hard to use software phones.
Traditional phone services work by delivering voice signals over dedicated copper lines from your
telcos exchange to either individual handsets or a PABX. Thanks to the maturity of the internet and evolution of phone systems, voice signals can be delivered over the internet and across computer networking infrastructure.
More competitive plans
The main drive for VoIP is value and flexibility. Not being forced to rent telephone lines allows enormous flexibility in choosing plans from a wide range of providers which best meet your organisations exact requirements.
Typically most plans are broken down into either 'Pay as you go' or a fixed monthly fee per handset which includes a fixed number of calls. How many handsets and how you use them will decide which approach is best.
When comparing plans make sure you consider:
Number of lines:How many concurrent incoming/outgoing calls do you need
Is the service charged per device or per incoming/outgoing line
How many and what type of incoming telephone numbers (DID) do I need, and how much will they cost.
Does the service include hardware such as new VoIP handsets.
Is the PABX (brains responsible for routing calls) located on premise or hosted on the cloud ?/li>
Redundancy
The cost of losing telephones for even a few minutes is enormous. When traditional ISDN and PSTN telephone services fail it can take hours to divert numbers and days for the fault to be fully fixed.
Being delivered over the Internet, VoIP phones and the computer network as a whole can be made resilient against a range of common issues such as failover to 4G if the main internet link being severed, powerback if the power fails or an instant diversion if the site is unable to take calls.
Scalability and Management
Adding new phones or a new number to the pool is no longer an expensive project. Unlike traditional telephones, VoIP phones do not need dedicated telephone wiring and can are powered off the same Ethernet socket as your computer. This enables flexible deployment and substantial cost savings when deploying handsets or wiring up a new premise.
In most cases changes such as new numbers and new call groups can be configured remotely without the need for a onsite visit, saving you time and money.
21st Century Features
Modern VoIP systems are more than just phones bringing enterprise features at affordable prices!  Some of these Include:
Advanced call management: Calls can be transferred, queued and forwarded throughout the organisation with minimal fuss.
Voicemail To Email': Ensures staff are up to date, even when out of the office.
Call Recording: Calls can be recorded and stored for quality assurance./li>
Conference calling: Between staff members, offices and external numbers
Calendars and Contact Lists: Company and Personal contact lists
Are you reaching the limitations of your existing telephone system and considering VoIP or wanting to find out how VoIP can work for you? We'd love to chat, drop us a line or email.