Your guide to the NBN
Your guide to the NBN
Hearing that 'NBN is now available in your area' is like a double-edged sword. It may be fantastic if your on a lesser service but at the same time are bracing and expecting to get mucked around.
The reality is the NBN in recent years  has got much better in terms of service and performance=for most people, but if your one of the unlikely ones to draw the short straw or are not prepared it can be a nightmare.
This article will decipher the NBN implementation process, how the different types of connection types work and how to prepare yourself for the shift!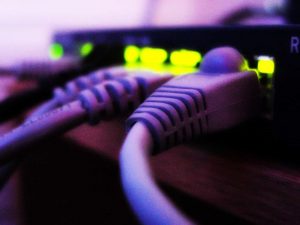 What is the NBN
It probably won't come as a surprise, Australia's Internet Infrastructure is very average compared to the rest of the world with speeds falling below those of developing countries due to being left to fall into a state of disrepair for various reasons. 'NBN-National Broadband Network' was formed by the Federal government to create a high speed throughout the country to replace copper adsl services and the Optus/Telstra cable services which had reached the end of its useful life.
Over the years the 'NBN' has been cut back by the Federal government, to scale back and use a mix of technologies (some good, some bad) alongside existing infrastructure to scale back costs instead of building the network fully with fibre-optics as originally planned. This has been the primary reason of people winning or losing the 'NBN lottery' and determines what level of service they will receive.
Different NBN Technologies
The first thing all users should do it visit the NBN website " https://www.nbnco.com.au" and enter their address to discover what NBN technology they have been assigned as-well as the forecast availability date.
Fibre to the Premises (FTTP)
FTTP is the gold standard of NBN connections with the service being delivered fully over new fibre optic cables with a current theoretical speed upto 1gb/s. No existing copper cabling is used and new connection box's will be installed at your premises.
Unlike other technologies, the service speed is not dependent on distance from the distribution hub or bad weather like its copper counterparts.
Fibre to the Node (FTTN)
FTTN (VDSL2) is considered to be the worst form of fixed line service and essentially just a faster version of ADSL which was likely in the area previously. Like its predecessor it shares many of the same problems such as being reliant on aging copper both inside and outside the premises, bad weather, and most notably significantly drops in performance the further away the the Node (exchange) is located.
Typically you can expect FTTN to attain a connection speed between 50-100mbps however speeds as low as 25mb/s is deemed acceptable by NBN. Before signing up for top tier plans make sure you inquire what your maximum attainable line speed is.
Fibre to the Curb (FTTC) / Fibre to the Building (FTTB)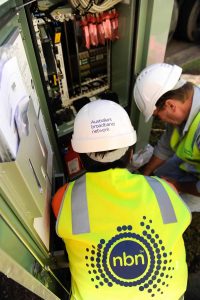 FTTC is similar to FTTN in the sense it is a VDSL2 service delivered down an existing copper telephone, however unlike with FTTN the node  is located far closer to only your immediate neighbours as opposed to it being located hundreds of meters away serving hundreds of users.
The setup is nearly identical for FTTB found in buildings, where a fibre optic cables is laid to a 'Node' inside the building and VDSL is distributed throughout the complex over the existing telephone wiring to each apartment.
These are good compromises economically to FTTP as a new fibre optic lead does not need to be installed for each service and in many cases can still achieve speeds comparable to fibre.
FTTC requires a second device called a NCD (Network Connection Device) which is essentially a vdsl modem and connects to your ISP supplied router.  It's important this device is not removed from the premises, for example a rental property.
Hybrid fibre-coaxial (HFC)
HFC is quite simply 'cable internet' delivered over coax, and uses many parts of the soon to be decommissioned Telstra Cable network.  Generally speaking NBN HFC is relatively stable and delivers close to its 100mb/s down/40mb/s up rated speed on its top tier plans.
Future upgrades to the network such as 'DOCIS 3.1' are planned to allow gigabit speeds and reduce congestion during peak times which is affecting some users.
Like FTTC, HFC requires a second device called a NTD (Network Termination Device) similar to a modem which converts the coax into an ethernet connection which can be plugged into the ISP supplied router. It's important this device is not removed from the premises.
Fixed Wireless
In rural or areas where it is not practical to run a cable, 'Fixed Wireless' is used to deliver a connection of upto 50mb/s with 4G technology similar to that of your mobile phone. While in most cases its better than services it replaces, the consensus is its not great due to heavy congestion in peak periods and higher pricing than other technologies.
Due to the nature of wireless technology, a small square 45cmx45cm antenna will need to be installed on your premises roof.
Satellite
If your out in the sticks or the NBN has deemed you to hard to service, you may be one of 400,000 privileged users able to connect upto one of the two new NBN Sky Muster satellites.
With speeds upto 25mb/s down and 5mb/s up it is one of the fastest and cost effective satellite on the market and blows the competition out of the water. Compared to a fixed-line services latency (ping) is typically between 600-800ms and data caps are far smaller for the same cost.
Unlike other NBN services, if you have a telephone service delivered over copper you have the option to retain it. In most cases this will offer far better voice quality than 'VoIP over satellite'.
How does my phone work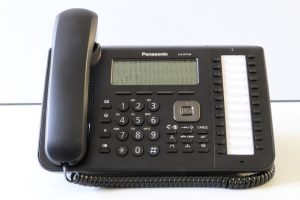 When the your premiese is switched over onto the NBN network your existing landline phone line will be replaced with a service delivered with VoIP. This means instead of picking up the phone and creating an analogue circuit back to the exchange, your phone will now only create a circuit back to the NBN router and convert it into signals which get sent over the internet.
In most cases you will keep your existing number, call quality will be similar and your existing telephone and phone sockets will function the same way. Due to the service being optimised for 'voice', if you have equipment such as alarms, efpos machines or fax machines on the line you should check with their manufacturers to see if they are 'NBN compatible'.
As the telephone is reliant on your NBN equipment and not the exchange anymore, it's important to note that in a power cut your telephone will not work. It is strongly recommended you purchase a dedicated backup battery for the NBN modem or preferably a Uninterruptible Power Supply (UPS). This is especially important if you have monitored alarms or no secondary form of communication such as a mobile phone to use in the case of an emergency.<
Preparations Before Your NBN Appointment
Identify if you have any equipment that is reliant the telephone system and confirm with the manufacturer that it is compatible with the NBN; ie fire alarms, medical alarms, back to base security alarms, eftpos machines, fax machines and life phones.
Document your existing network configuration before the switch: ie network range, dhcp range, default dns servers, firewall rules, wireless SSID and passwords. This information will need to be configured on the new ISP supplied router for a seamless transition.
Plan for a new public IP-address, if you having services such as a website, ftp server or Site-to-Site VPN be prepared to change your configurations as your ISP will likely assign you a new static IP address once on the NBN network.
In most cases and for straightforward installations a NBN migration will go seamless, if your business can not afford a disruption an alternative
How do I order the NBN
As the NBN is rolled out in your area you will start receiving letters of the process and your ISP will likely call encouraging you to switch sooner rather than later. Once the NBN has deemed your premises 'ready for service' you will have 18 months to select a NBN provider and make arrangements with them to migrate. NBN are a wholesaler and do not sell to end users.
You do not need to stay with your current telephone/internet provider however it may simplify the installation process and help ensure you receive an equivalent or better service.
When choosing a provider remember to ask them the following questions:
What are the typical speeds I will receive, not just the maximum advertised? (Higher is better)
What is my monthly data cap (ie 500GB a month) or is it unlimited?
Does the internet service include a telephone line?
Do I pay for each call (Pay as you go -PAYG) or is it unlimited?
What are the rates for international calls (if required)
Is there a activation or setup fee and if so how much?

How can I avoid paying this?

Is there a contract and how long is it?
What router and equipment will be installed?
Will the service and equipment be installed professionally by a technician or will it just be posted out?
Does the service include 'static ip address'? (Important if you use a Site-Site VPN or remotely access your equipment)
If you have any questions about NBN or assistance getting your business ready for the big switch  give us a call on 1300 733 240 or send us a message  
Useful Links
https://www.accc.gov.au/consumers/national-broadband-network
https://www.whistleout.com.au/Broadband/National-Broadband-Network-NBN-Plans