Vultr, the affordable easy to use cloud
Hosting cloud servers can be difficult, especially if your first experiences with it are with complex providers like Amazon AWS and Microsoft Azure. Learning this platforms takes weeks of full time study to use them effectively. While it's undeniable these two enterprise platforms are incredibly powerful, do you really need such a complex platform to start off on?
The answer to that is usually NO. Most people just want a reliable affordable server, dedicated IP, snapshot backups and a easy to use firewall. My personal favourite which meets this criteria is Vultr which we use for testing, development and deployment of non critical workloads.
It's quick and easy to spin up servers, management features are straightforward and you don't have to be a detective to figure out the billing.
Pictures really sum up a thousand words here.
Main Dashboard
This is the main dashboard you are presented with when first signing on. In this demo environment we have 3 servers in 3 different data centres. Their location, status and billed amount for the month is clearly visible. Servers in the dashboard can be sorted by 'location', 'alphabetically' or grouped by 'tag'.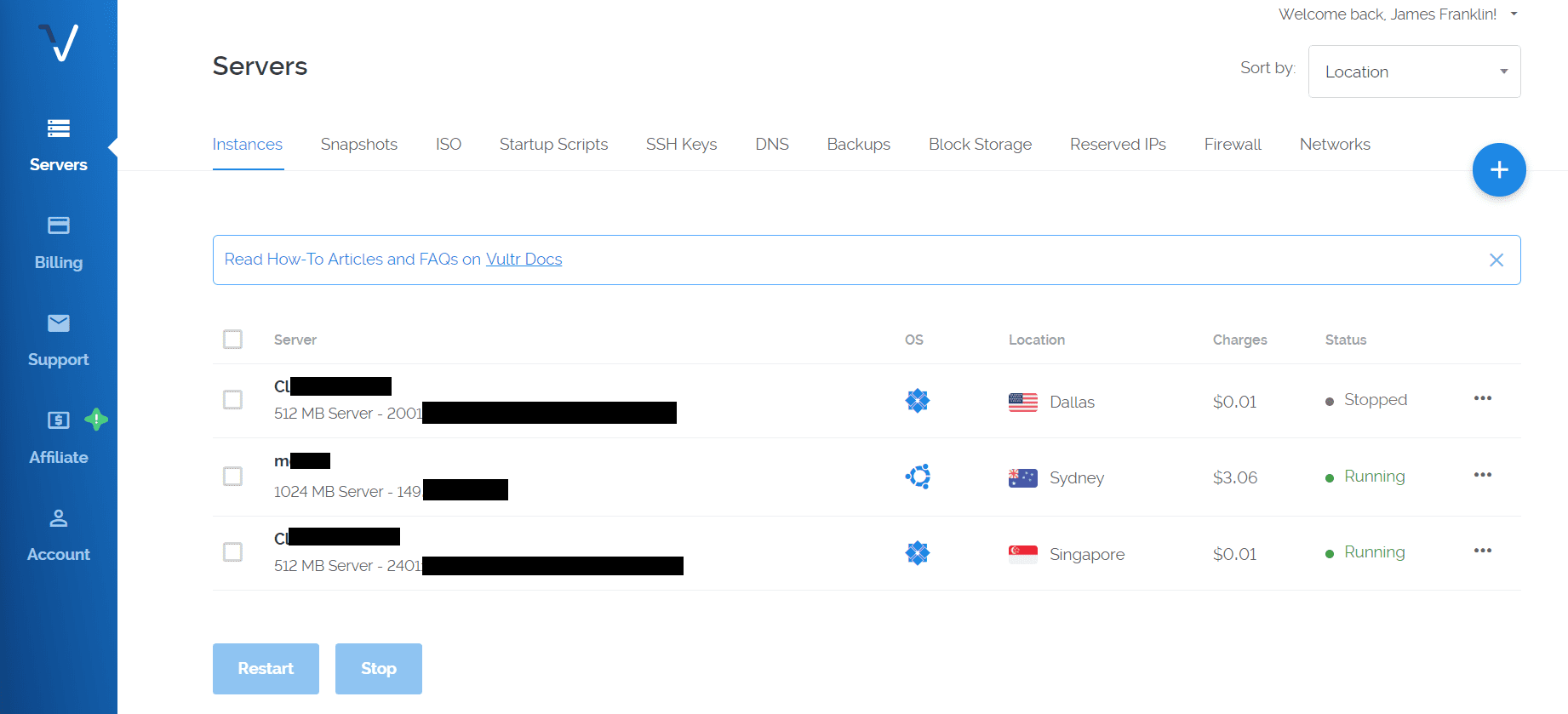 Deploying a new Server
There isn't a great deal to the process.
1) Click on the data-center you want it located in,
2) Choose an OS, template or Upload an ISO yourself
3) Choose what sized server you want then hit Deploy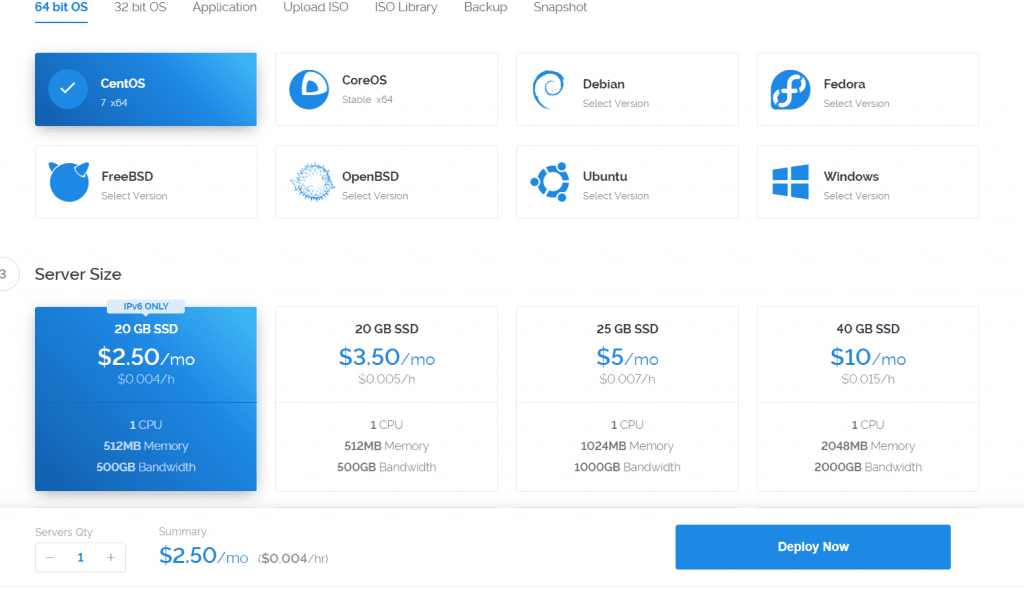 Instance Management
By clicking on the instance you get more detailed information about the server such as its hardware specifications and usage statistics. Automatic Snapshot Backups of the server can be taken for an additional cost.

Firewall
Included for free is a basic rule based firewall which sits between the internet and the virtual machines WAN port. Its easy to use and powerful enough for most applications. Firewall rule groups once created an be linked to multiple instances. Currently DDoS protection is not available in the Sydney location.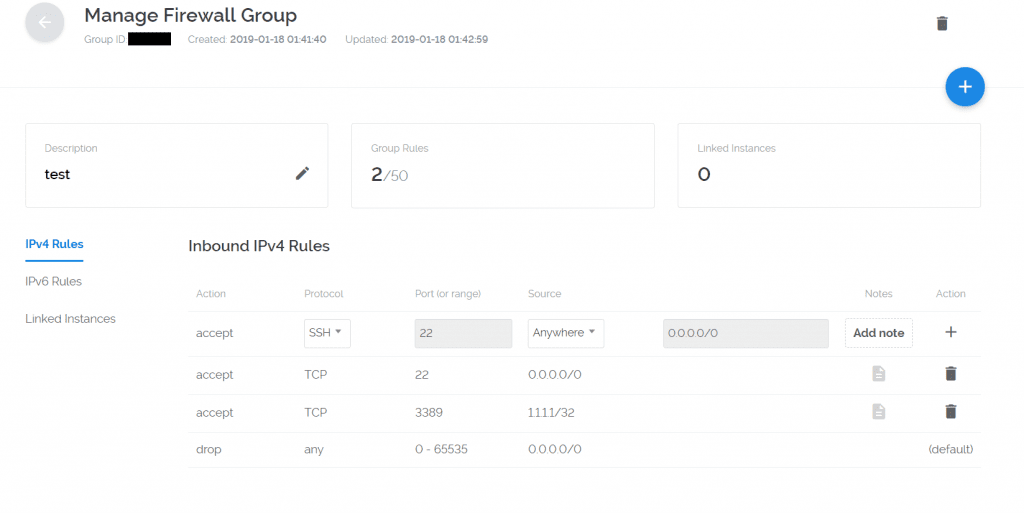 What's Hot
-Easiest to use interface on the market
-One of the cheapest cloud providers, and NO CONTRACTS
-Sensible sizes of servers (1 Core/1GB RAM, 2 Cores/4GB RAM etc)
-High performance servers, with SSD storage
-Very transparent upfront pricing which is billed hourly
-Licenced Windows Server instances available for an extra cost
-Ability to upload custom ISO's for installation
-1 click App Templates: cPanel (extra cost), OwnCloud, Lamp Stack
-Straightforward firewall and private networks
-100% uptime SLA (Credit for downtime)
-Quick Response to Tickets and a comprehensive good documentation library
What's not
-Instances are charged the full rate, regardless of if they are running or offline.
-Limited number of locations (16 as of January 2019)
-Storage charged in complete blocks (ie 10GB) not per KB like Amazon S3.
-Billed in US dollars
-No High-Availability or inbuilt network load balancers, however home-brew options exist
-No instance monitoring, ie server has gone down, or CPU threshold warnings
-No Paid Support Options
Summary
While we haven't experienced any issues we wouldn't recommend using Vultr in production unless you have your own internal safeguards to mitigate against downtime and data loss. Nor is Vultr a direct rival Amazon or Microsoft with its hundreds of different complementary technologies like network load balancers.
For general web hosting we'd recommend against setting up your own linux servers as quite often shared cPanel hosting is faster,cheaper, more stable, more secure and almost always easier to use.
If your just looking to spin up a few linux instances, run a game server or setup services like VPN's it may be perfectly suited and a fraction of the cost of it's larger competitors.
Interested in using Vultr? For a limited time, use the link below to get $50 free credit to trial the platform:  https://www.vultr.com/?ref=7774721-4F
What are your thoughts on Vultr, leave us a comment below